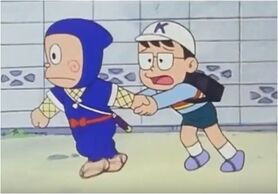 Kenichi is late to school
(Late Again!) (遅刻は校庭十周の巻) is episode 169 of the
Ninja Hattori-kun 1981 anime
.
Kenichi starts to get late for school as a habit, and Kanzo Hattori has to get him to mend his ways.
Synopsis
Edit
The episode starts with most of the family being shown downstairs, eating breakfast. Mrs Mitsuba calls Kenichi downstairs, but he doesn't come. Shinzo and Shishimaru go and try to wake him up, to no avail. Shinzo takes out a megaphone and bellows at the top of his voice to try to wake him up, but Shishimaru finds that he has put earplugs into his ears. Shinzo removes the plugs and wakes Kenichi up. Horrified that he has slept in, Kenichi runs off to school in his pyjamas; Hattori sets him right, but Kenichi, upon reaching school, is given detention by Mr Koike.
Meanwhile, Kenichi resolves to set his problems right. From being yelled at to wake up, to having a bucket of water being poured on his head, from trying to listen to music but with Shishimaru getting entangled in the wire, to a failed hypnotism by Shinzo, from a game of chess, to falling asleep at the study table with false eyelids on his eyes, the gang try out all sorts of schemes, which, of course, fail.
Next morning, however, Hattori drags Kenichi using ninja techniques to school. Kenichi arrives on time, but everything goes all wrong when Kenichi falls asleep at his desk and gets yelled at by Mr Koike.
Characters
Edit