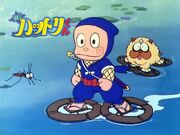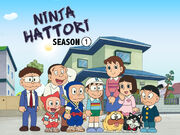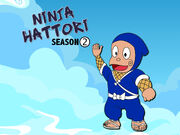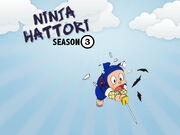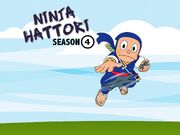 Ninja Hattori-kun (忍者ハットリくん Ninja Hatori-kun) was an anime series that originally aired in 1981. It was adapted from the manga created by Motoo Abiko (also known by his more popular pen name, Fujiko Fujio Ⓐ) of Fujiko Fujio. The first episode aired on 27th September 1981, while the series finale aired on Christmas Day 1987. In 2012, the anime series was remade as a joint venture between India and Japan and is currently on airing in several Asian countries.
Ninja Hattori used to air in English on Disney Channel Asia. Ninja Hattori is available on Amazon Prime Video India in English, Tamil, Telugu and Hindi. The same dubs air on Nickelodeon India. Prashanth Pratap is at the moment the dubbing director and script writer for this dub, he also voices Shishimaru, Kemumaki and Kiyo.[1]
10-year-old Kenichi Mitsuba was a compassionate bloke who goes to elementary school and struggles with his studies. He happened to be rather lazy and therefore always ended up getting into trouble with his parents and teachers. One night when Kenichi was watching a samurai show on television, a ninja turned up at his house by jumping through Kenichi's window. He was a renowned ninja named Kanzo Hattori from Iga. He wasn't just a skilled young ninja, but also a very kindhearted young lad with a strong sense of right and wrong. Soon they became good friends. Hattori was always there to rescue his friends and family by using ninja techniques. He became a part of the Mitsuba family along with his brother Shinzo Hattori, and his ninja dog, Shishimaru.
Hattori helped Kenichi with his problems, and constantly kept an eye on him, as a good friend. Hattori also frequently helped Kenichi win over his love rival, Kemuzou Kemumaki, a ninja from the Koga clan, in a bid to win the heart of Yumeko Kawai, the most attractive girl in class. Kemumaki and his ninja cat Kagechiyo always bothered Kenichi, who asked Hattori to take revenge in most of the episodes. Although Hattori was a loyal friend, Kenichi sometimes argued with Hattori due to contrasting personalities. Occasionally, Jippo, Hattori's ninja turtle partner, Togejirou, a cactus with supernatural powers, and Tsubame, Hattori's crazy girlfriend helped the gang with their skills.
Specials/(crossover) films
Edit
2012 remake
Edit
On February 14, 2012 TV Asahi president Hayakawayo announced a remake of the anime series under production by Shin-Ei Animation and Indian production company Reliance MediaWorks. Shin-ei's experienced team of writers and directors, in collaboration with the team of 100 animators at the Reliance MediaWorks' animation studio, is creating the new Ninja Hattori episodes.[2] This was part of a move to produce several remakes of popular anime television series to be broadcast across television stations in the Asian market to counteract Japan's stagnating domestic anime marketplace due to its declining birthrate.
All 26 episodes (with 1 episode consists of two stories) were broadcast on Nick India in May of the same year. Since India had been broadcasting the original Ninja Hattori-kun anime since August 2006, they were determined that its popularity in India would expand the revenue of content business for Hakuhodo DY Media Partners, Reliance Media Works and Shinei Video, which in recent years continued rapid economic growth.
in February 2013, Animax Japan announced that it will produce a Japanese dubbed version of the anime. It started broadcasting on May 13 of the same year.
The plot is generally the same as the original anime, except for modifying some settings to fit current conditions, such as adding Internet and mobile phones. The animation was made using CG. The character setting remains unchanged from the original. However, such elements as cricket — a popular sport in India — and blackouts, which are not an uncommon occurrence in the country, are incorporated in the story.[3]
Title card styles
Edit
References
Edit
↑ http://www.bestmediainfo.com/2012/02/ninja-hattori-to-be-produced-in-india-reliance-mediaworks-wins-mandate/